Integrated Construction Software Solutions
With over a century of firsthand experience in heavy civil construction, we've learned that it's difficult to have one integrated construction software system to manage all the core functions of your organization.
There are systems out there that offer features and functionality for different departments and roles within your business. However, handling all the complexities for each one of a businesses' needs, let alone the unique nuances for each individual company, is virtually impossible. Providing the best system for each department or role as well as integrating those standalone systems is key.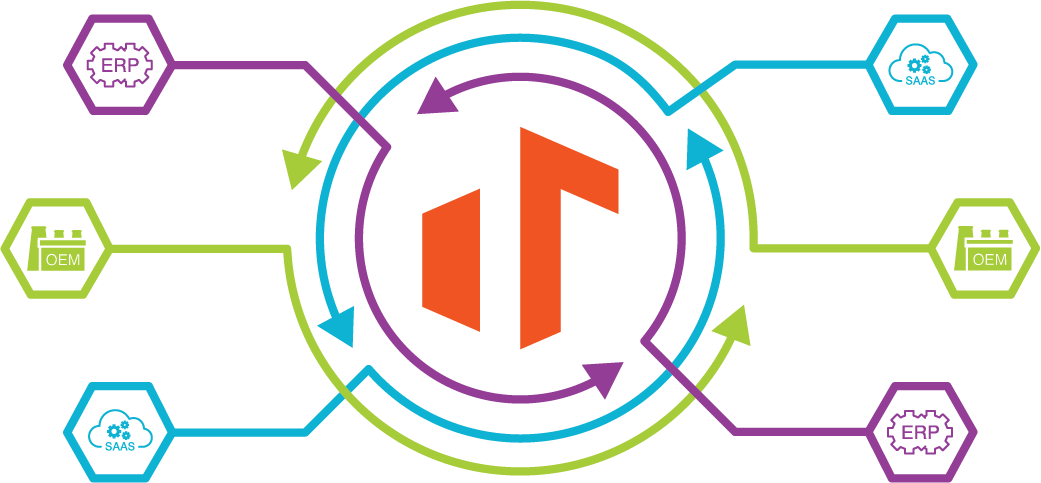 We Offer Software Integrations for Construction
As Tenna continues to be the construction technology platform that revolutionizes equipment fleet operations, we look to also be an integral part of your business' technology ecosystem with an integrated construction equipment management solution. We have a variety of software integrations for construction options which include:
Tenna provides integrations with various business and finance software systems a.k.a. ERP (Enterprise Resource Planning) systems. This enables your data to flow between Tenna and your ERP system, automatically updating the systems you've already invested in, extending their value and use.

Tenna has partnerships with various cloud-based software providers – a.k.a. SaaS (Software as a Service) platforms – such as project management and estimating software systems. We are continuing to build those partnerships based on our Customers' needs and requests to connect their current construction technologies to Tenna and help maximize the productivity of their systems.
Integrating with your OEM machines extends your third party telematic data to Tenna allowing you to manage your entire fleet on Tenna's One Platform.

Tenna integrates with your OEMs by importing their telematic data via API connections (in accordance with ISO 15143-3 /AEMP 1.2 and AEMP 2.0 telematics standards) into the Tenna platform.
How Integrated Construction Software Works
Integrations allow different business systems to share data, communicate with each other and work together to help streamline your business processes.

Construction integrations can:
Seamless software integrations for construction provide many benefits; here are just a few:
"The [OEM] integration is awesome because we already had telematics on about 70 pieces of equipment… In under 5 minutes, I was able to set up all of these assets and have the information pull into Tenna successfully. The best part is now our company has one filtered dashboard that all my users can go to. This is great for our users who are not super tech-savvy. Having multiple data sources filter onto One Platform makes it such an incredible tool because now I can train my team on one tool. They are familiar with one tool. They can master one tool. It's so much easier to go to one interface and have everything you need at your fingertips."
Try Tenna Today
See how we can help you Know More, Control More and Make More now.